Gran Premio de Alemania
Sabado - Calificación
La califiación comenzó con la novedad del cambio de piloto de Super Aguri en la persona de Franck Montagny que fue sustituído por Sakon Yamamoto que junto con Takuma Sato esperaban superar la primera sesión de calificación e incluso casi lo logran al colocar a Sato provisionalmente entre los Williams que tuvieron la prohibición de su alerón delantero y optaron por unos alerones abajo de los pontones que cumplen el mismo comentido.
La primera sesión sin embargo, no tuvo mayores sopresas al quedar los Super Aguri, Midland y Toro Rosso eliminados. Speed no logró terminar su vuelta rápida pero la ultima posición la ocupará Albers al cambiar de motor. En la 9a línea saldrán Luizzi y Sato, en la 10a Monteiro y Yamamoto y en la 11 Speed y Albers.
La segunda sesión tuvo a los dos Williams y los dos Sauber-BMW junto con un Toyota y un Red Bull quedando en la 6a línea Webber y Klien, en la 7a línea saldrán Trulli y Villeneuve y en la 8a línea Rosberg y Heidfeld. Ninguno de ellos pudo superar la barrera de los 75 segundos.
La última sesión tuvo a las mejores acciones al tener un dos incidentes sobresalientes, primero con Ralf Schumacher que colisionó a Pedro de la Rosa y los hizo perder trompear y luego en la salida de pits, Michael Schumacher casi choca con Fernando Alonso casi al final de la sesión. Raikkonen sorprendió a todos al obtener la pole position sobre los Ferrari y los Renault. Honda también tuvo buenos resultados al terminar mejor que los Renault que lideran el campeonato.
La salida de la carrería tendrá en la 1a línea a Raikkonen y M Schumacher, en la 2a a Massa y Button, en la 3a a Fisichella y Barrichello, en la 4a a Alonso y R Schumacher y en la 5a a De la Rosa y Coulthard.
Domingo - Carrera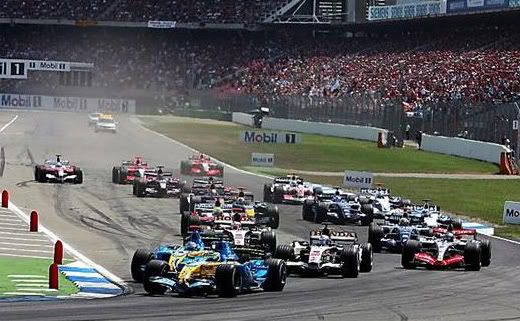 La carrera comenzó con los tres primeros conservando sus posiciones, pero lo emocionante vino con Alonso que rebasó a Barrichello y Button, que había sido rebasado por Fisichella. E incluso Alonso estuvo a punto de rebasar a su coequipero pero Fisico mantuvo su posición al llegar a la primera curva. Button, que traía mejor auto que los Renault aprovechó esta condición para terminar rebasando a ambos Renault antes de cumplir la primera vuelta al circuito y quedó en 4o.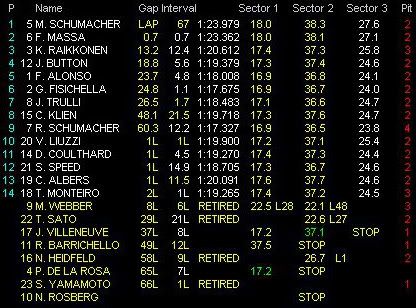 Kimi mantuvo un ritmo más rápido que los Ferrari a los que les sacó una ventaja de casi 3 segundos en las primeras 10 vueltas hasta que entró a pits demostrando una estrategia de 3 paradas y explicando el porqué de la pole position conseguida el día anterior. Ferrari entonces con Michael y Felipe marcaron el ritmo de la carrera con Kimi en el 8o lugar al reintegrarse después de Barrichello que luchaba con los Renault. Honda también iba con menor combustible que los Renault y Ferrari y ambos entraron dejando atrás sus posiciones, pero Button logró salir adelante del McLaren.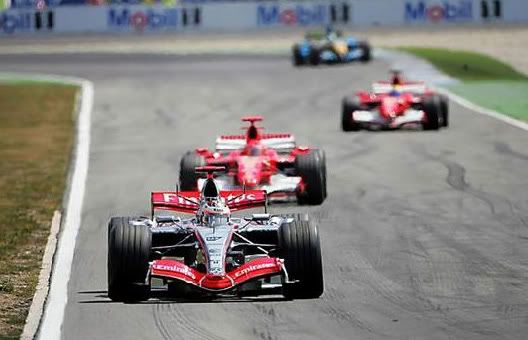 Para esta parte de la carrera ya habían abandonado el debutante Sakon Yamamoto junto con Nico Rosberg y Pedro de la Rosa que tuvo problemas con su motor cuando rodaba 7o. Después vino el desastre para Sauber-BMW que no había tenido una buena califiación al quedar fuera ambos junto Barrichello dejando la carrera con 16 autos en pista antes de la mitad de la carrera. Las paradas de pits de Alonso y Fisichella los devolvieron a su lugar atrás de los Honda y McLaren e incluso con la presión de Trulli que tenía una estrategia de paradas más tarde que ellos. Ferrari no tuvo contratiempos para mantener sus lugares en toda la carrera.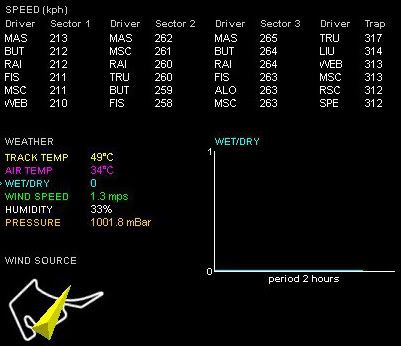 Barrichello explicó después?
"We made some good progress here this weekend, so it's very disappointing for me that we let that go with a bad start and an engine failure. In the first few laps the car was running well and with the strategy and long run pace we had I think we should have done well today. Not long after my first pit stop the engine caught fire and there was oil on the tyres which caused me to spin and that was the end of my race."
En la segunda entrada de pits, encabezada por Raikkonen arrojó para las últimas vueltas a Schumacher en primer lugar, seguido por Massa y Kimi en 3o, Button en 4o, Webber en 5o haciendo un carreron otra vez y Alonso en 6o y Fisichella en 7o dejando la última posición a Trulli. Y todo apuntaba a que Kimi perdería su lugar en su tercera parada de pits que efectivamente sucecdió pero salió justo adelante de Webber conservando el 4o lugar y posteriormente logró alcanzar y rebasar a Button por el último lugar de podio. Para mala fortuna de Mark, a unas vueltas del final, su motor no dio más y sólo le permitó llegar a pits para retirarse lastimosamente.
Webber declaró despues:
"It was a promising race but a disappointing ending. I had a really good start and climbed from 11th to sixth after lap one and the stint went well. I had a big fight with Rubens who got me in the end, but I knew he was lighter and had to stop before me. After the first pitstop I passed Fisichella on the track and was on the limit until the second stop. After that, things started to go wrong - I lost a bit of balance on the car and then suddenly started to lose engine power quickly. It seems we had a water leak, which of course is terminal for an engine and it was all over eight laps from the end."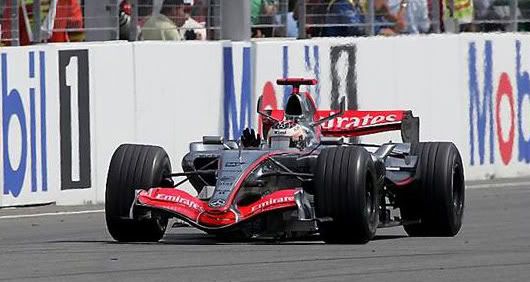 Por su parte Fisichella estuvo a punto de rebasar a Alonso, pero seguramente órdenes de equipo lo pusieron atrás del campeón para que no perdiera tantos puntos con respecto a Schumacher. Alonso delcaró después:
"We were not competitive this weekend, but I did the maximum I could and so did the team. I think that without the blistering we experienced, the podium was a possibility for me today - even from seventh position. I got a good start and passed both Hondas, but the tyres then blistered in the opening stint and I lost too much time to be able to fight for third place. Things were much better in the second and third parts of the race, and I was still pushing hard in the final laps when I went off because there was a chance of catching Button... but we did not have enough to fight Ferrari here, and that was the problem for us."
Ahora vendrá la carrera de Hungría con mucho calor y otra vez los neumáticos tendrán la última palabra en las estrategias que por lo menos a McLaren le funcionó para quedar tercero, pero no para superar a los Ferrari. El campeonato esta a 11 puntos en el de pilotos y a 10 en el de constructores...
Las declaraciones de los tres primeros:
1o Michael Schuamcher:
"Superb! I can't begin to find the right adjectives to describe the car-engine-Bridgestone tyre package and the performance of the whole team. We worked hard at last week's Paul Ricard test and I am very happy that today that work bore fruit. I want to congratulate Felipe, who drove a great race. It was very important to have made up several points over our main rivals at the key moment of the season. I had no problems whatsoever all weekend and I have to say that winning here in front of my fans makes it a really special victory"
2o Felipe Massa:
"I saw yesterday morning that we had a really good pace for the race; especially my speed on old tyres was very surprising. I was therefore convinced we would have an even stronger car for the race. That is how it turned out. After a good start and good first pit stop I saw that I had a big gap to the following cars and from then on I concentrated on looking after the car and bringing it home. I drove an intelligent race in what was an important one for the team at this stage of the season, given our targets in both championships"
3o Kimi Raikkonen:
"To be on the podium is really the best result that we could have achieved today as we have had several problems. During the race I was delayed in my first pit-stop due to a crossed wheel nut; I suffered from blistering on my second set of tyres, and there was a small issue with the hydraulics, which meant that Jenson Button was able to get ahead after my first stop. However none of these really mattered as we were able to make up all the time in the last part of the race where we were very strong. The result today shows that the car has definitely improved, and hopefully next race we can do even better."
Resultados
1 Michael Schumacher - Ferrari -
10 puntos
2 Felipe Massa - Ferrari -
8 puntos
3 Kimi Räikkönen - McLaren-Mercedes -
6 puntos
4 Jenson Button - Honda -
5 puntos
5 Fernando Alonso - Renault -
4 puntos
6 Giancarlo Fisichella - Renault -
3 puntos
7 Jarno Trulli - Toyota -
2 puntos
8 Christian Klien - RBR-Ferrari -
1 punto
9 Ralf Schumacher - Toyota
10 Vitantonio Liuzzi - STR-Cosworth
11 David Coulthard - RBR-Ferrari
12 Scott Speed - STR-Cosworth
13 Christijan Albers - MF1-Toyota
14 Tiago Monteiro - MF1-Toyota
Retiros
15 Mark Webber - Williams-Cosworth
16 Takuma Sato - Super Aguri-Honda
17 Jacques Villeneuve - Sauber-BMW
18 Rubens Barrichello - Honda
19 Nick Heidfeld - Sauber-BMW
20 Pedro de la Rosa - McLaren-Mercedes
21 Sakon Yamamoto - Super Aguri-Honda
22 Nico Rosberg - Williams-Cosworth
Vuelta más rápida: Michael Schumacher 1:16.357
Nigger
Etiquetas: automovilismo
---