Gran Premio de China
Sabado - Calificación
La calificación estuvo precedida por la lluvia, que había amenzado durante la semana con aparecer en las sesiones y la carrera y ahí comenzó el gran premio, pero sin grandes sorpresas. Michelin en su antepenúltima carrera hizo ver mal a los neumáticos de Bridgestone al dejar fuera a los Toyota de Ralf y Jarno, los Super Aguri de Sato y Yamamoto y los Midland de Monteiro y Albers en la primera parte.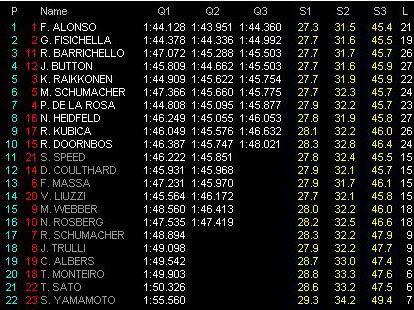 Para la siguiente sesión de calificación los que quedaron fuera fueron: Speed y Luizzi de Toro Rosso, Webber y Rosberg de Williams y el Ferrari de Massa y el Red Bull de Coulthard.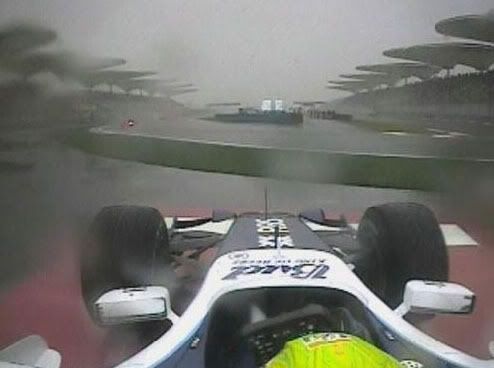 Ya en la última parte, y con la lluvia todavía presente, Alonso consiguió el mejor crono seguido de Fisichella. Los Honda de Barrichello y Button ocuparon la siguiente línea seguidos de Raikkonen y Schumacher. Detrás de ellos De la Rosa y Heidfeld y en la quinta línea Kubica y Doornbos que sustituyó a Klien.
Domingo - Carrera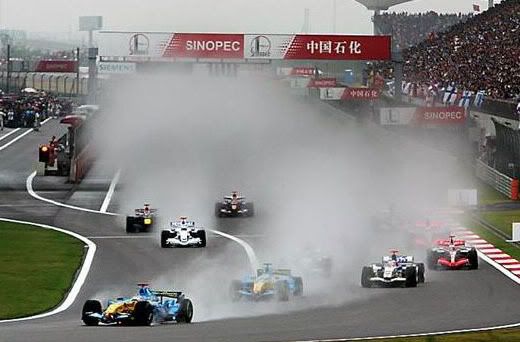 Para la carrera la lluvia se despejó pero dejó la pista mojada y la amenza de volviera a caer agua. Todos salieron con llantas intermedias y ahí Alonso comenzó a sacar una importante ventaja sobre el resto, siendo protegido por Fisichella deteniendo al resto que era lidereado por Raikkonen que había rebasado a los dos Honda. Michael en un principio tuvo problemas para mantener el paso pero conservó su lugar.
Massa y Sato habían sido penalizados por cambio de motor y Massa comenzó una remontada impresionante por llegar a la zona de puntos. Alonso por su parte logró sacar una ventaja de casi 25 segundos sobre Schuamcher y Raikkonen comenzó a presionar a Fisichella por el segundo puesto. Unas vueltas más adelante logró rebasarlo, pero solo para entrar a la primera parada de pits programada.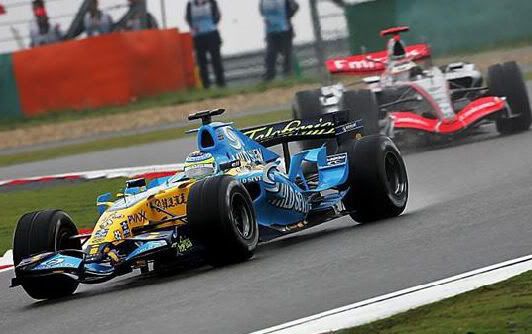 Al salir, Raikkonen mantenía un excelente ritmo pero tuvo que abandonar por rotura de motor:
"That was a shame as it was looking like we could achieved a win today. I don't know exactly what happened, but all of a sudden the throttle didn't react correctly and the engine went into safety mode and selected neutral. I made a good start and then got on the outside and gained a couple of places - it was a bit tight, so I didn't manage to get past Fisichella at that point. I overtook him later on and was gaining on Alonso before my first scheduled pitstop "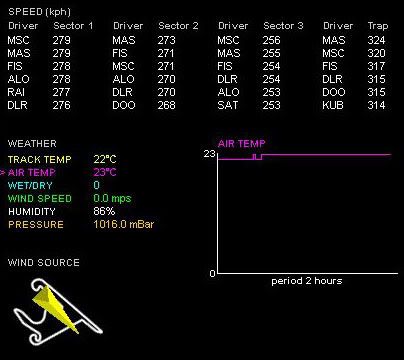 Alonso había sufrido un ligero despiste, pero segui manteniendo su segundo puesto y Schumacher venía remotando al tercer puesto contra los Honda que también manteníá la lucha contra los BMW de Kubica y Heidfeld. Todos entraban a pits conservando sus llantas, pero Alonso por el despite le cambiaron sus llantas delanteras. Al salir, la ventaja que tenía se desvaneció al tiempo que Michael presionaba a Giancarlo para obtener el segundo sitio.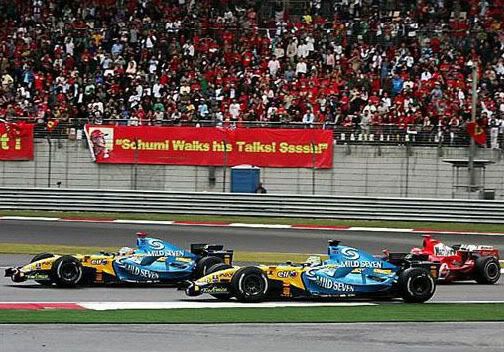 Ambos pilotos alcanzaron a Fernando y lo rebasaron por el mejor ritmo que traían y pronto le sacaraon segundos de ventaja hasta que Michael rebasó a Fisichella y se iba para adelante. BMW por su parte cometieron un error garrafal con Kubica al cambiarle las llantas para piso seco cuando apenas se secaba la pista y perdió lugares teniendo que volver a cambiar sus llantas a piso semimojado.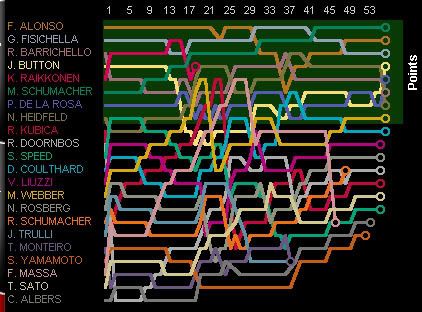 En la segunda entrada de pits, todos cambiaron por llantas de piso seco y Schumacher comenzó a sacar todavía más ventaja sobre Fisichella, pero Alonso perdió casi 10 segundos cuando se atoró la llanta trasera en su recambio, pero comenzó remontar tiempo hasta que a pocas vueltas del final allcanzó y rebasó a Fisico para obtener el segundo lugar.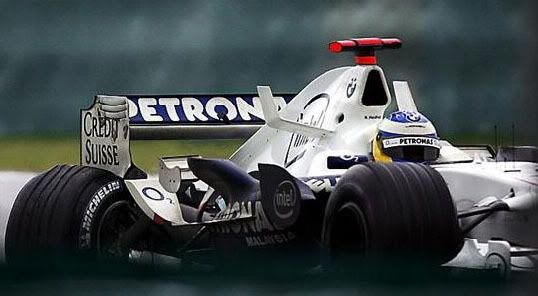 Michael sin presión aflojó el paso y permitió que Alonso se acercara a menos de 5 segundos, pero aún así obtuvo su victoria. En las últimas vueltas un incidente de Heidfeld con Sato y Albers produjo que el alemán cayera del 4o sitio al 7o y los comisarios castigaron a Sato y Albers por el incidente.
Nick declaró al final:
"This was the most disappointing race of my career - not only in F1 but in my entire life. Right up to the end I was certain I would be fourth, but then a few backmarkers caused trouble. The first one was Albers, who stayed on the dry line and didn't let me pass. I had to brake on the wet, almost spun, went on the grass and lost a few seconds. Then Super Aguri Honda driver, Sato, blocked me for almost a lap. He was fighting, although he was a lap behind, and using an advantage he had at this stage of the race due to his Bridgestone tyres. Because of this, the other two Hondas caught me and Albers and Sato were in the way. Barrichello crashed into the back of me and after this I had to be happy to make it to the finish. Before all this happened I was very quick today."
Las declaraciones de los tres primeros:
1o Michael Schumacher:
"I am so happy! I want to thank the team for this result, as they did a fantastic job. After the start, I was surprised to find that I could match the pace of those ahead of me, which was better than I had expected. After a while, I was able to close up on Fisichella. I thought that if I could pass him, even if I could not win, then at least I would only lose two points to Fernando (Alonso) and given where I started that would have been a good result. It was very important to reduce the gap to the Renaults when the track began to dry. The crucial moment came with the switch to dry tyres. I knew that even if Fisichella managed to stay ahead of me after his stop, I would have the chance to pass him going into the first corner as he would be in trouble with the temperature of his tyres and that is what happened. In the final laps, I drove very carefully. I had a good gap but the track conditions were getting difficult, however, I was never worried about getting caught."
2o Fernando Alonso:
"This was a difficult race for the team because we lost a very good opportunity today. I built up a good lead in the first 20 laps, but my front tyres were badly worn - and the conditions were difficult as the track was drying very slowly. We made the decision to change the fronts for a new pair, and it was the wrong one - as we saw with Fisi (Giancarlo Fisichella) and Michael, who kept all four tyres on the car and were much quicker. After that, the only thing we could do was go to dry tyres as early as possible - and hope to catch up the time to Michael. In the end, there were not enough laps left. So it was a bad day, but this is a fantastic fight for the championship, and I go to Japan feeling really confident. We had the quickest car today, and we have two more good chances to win. I believe we can do it."
3o Giancarlo Fisichella:
"This was a good race for me - and a good result for myself and the team. Finishing third means I go ahead of Massa in the drivers' championship, and the team is leading the constructors' championship again. I started with the biggest fuel load of any car at the front, so the first laps were quite tough - but the conditions came to me really well as the circuit dried. We kept the same set of tyres at the stop, and I was able to be very competitive and pull away from Michael. But when I came out on dry tyres, the track was so slippery - and the tyres weren't at temperature yet. I slid wide, and Michael got past. After that, we turned the engine down to save it for Japan, and made sure of the podium finish. After seeing how the car performed today, we know that we have the performance to win both titles, beginning next weekend in Japan."
Resultados
1 Michael Schumacher - Ferrari -
10 puntos
2 Fernando Alonso - Renault -
8 puntos
3 Giancarlo Fisichella - Renault -
6 puntos
4 Jenson Button - Honda -
5 puntos
5 Pedro de la Rosa - McLaren-Mercedes -
4 puntos
6 Rubens Barrichello - Honda -
3 puntos
7 Nick Heidfeld - Sauber-BMW -
2 puntos
8 Mark Webber - Williams-Cosworth -
1 punto
9 David Coulthard - RBR-Ferrari
10 Vitantonio Liuzzi - STR-Cosworth
11 Nico Rosberg - Williams-Cosworth
12 Robert Doornbos - RBR-Ferrari
13 Robert Kubica - Sauber-BMW
14 Scott Speed - STR-Cosworth
15 Christijan Albers - MF1-Toyota
16 Sakon Yamamoto - Super Aguri-Honda
Retiros
17 Ralf Schumacher - Toyota
18 Felipe Massa - Ferrari
19 Jarno Trulli - Toyota
20 Tiago Monteiro - MF1-Toyota
21 Kimi Räikkönen - McLaren-Mercedes
Descalificado
22 Takuma Sato - Super Aguri-Honda
Vuelta más rápida: Fernando Alonso 1:37.586
Nigger
Etiquetas: automovilismo
---